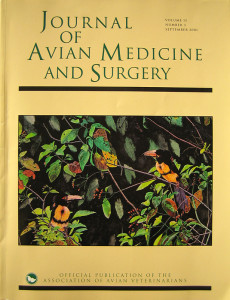 Cover art: Journal of Avian Medicine and Surgery. 2001;15(3):Cover.
175 Limited Edition
20 Artists Proofs
Available as 14" X 20" Giclée Reproductions
Framed and matted reproductions available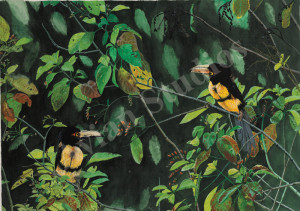 'Two collared aracaris' (Pteroglossus torquatus), is based on the artist's trip to Guatemala. These colorful birds are the most common of the toucanets or 'mini toucans' and are found throughout Central America. Their chatter is best described as 'chipmunk like' with a mixture of squeaks and whistles and is quite fitting for a jungle. The artist watched a large group of collared aracaris playfully chattering behind the Temple of the Giant Jaguar in the world-renown Mayan ruins of Tikal, Guatemala. Their carefree interactions made it seem as though the birds were blissfully unaware of the dangers surrounding them. It only seemed fitting to paint these two birds looking and interacting with each other with the dark and uncertain jungle behind them.