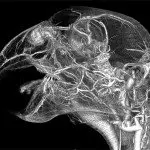 To learn more about BriteVu featured in the Scientific American blog , NPR's Science Friday or the Atlantic's Quart go to www.ScarletImaging.com.
A detailed description of anatomy can provide clinicians and researchers invaluable information for the diagnosis and treatment of diseases for any species. Although long used for humans and selected animals, such anatomic references for commonly kept parrot species currently do not exist. The Grey Parrot Anatomy Research Project aims to create an accurate physical and digital anatomy reference, including a standardized basis for avian anatomy nomenclature, of a commonly kept parrot species, the grey parrot (Psittacus erithacus). The grey parrot was chosen because of its recognition worldwide in cognition and intelligence research, ability to talk, presence in the pet and aviculture trade, and conservation concerns as wild populations are declining.  The approach being used to develop such an atlas, involving advanced small animal imaging on live animals, image analysis and visualization techniques, could be highly desirable and applied towards other animals to create similar references.
The goals of the Grey Parrot Anatomy Research Project are four-fold. One is to create a physical anatomy atlas book. The atlas is our first goal, and we hope to have it published by 2022. As the information being collected for the project goes into far greater detail than can be shown in a book, we are also working towards building an online reference. This reference would be available through a web platform and ultimately allow users to manipulate images in 3-D. We also hope to open the information to other researchers who wish to pursue evaluation of detailed anatomic features we are digitally recording. We foresee the online digital application as a long term and ongoing project.
The second goal is to develop new technology that allows researchers to obtain better and more meaningful data. Dr. Echols focuses a lot of his energy on developing new technologies that allow researchers and clinicians to more clearly 'see' (whether digitally or physically) anatomy. He has developed several products such as BriteVu®, Scarlet Tissue Stains and Cadaver Preservation with BriteVu® to improve anatomy studies. Many other new tools are becoming available that allow researchers to see the previously unseen and make more accurate anatomic descriptions. It is a very exciting time in anatomy research!
The third goal is to involve many scientific disciplines. If anything, the Grey Parrot Anatomy Research Project is a scientific study and not just an anatomy project. By bringing expertise from researchers with different backgrounds and skills, the project is strengthened. The resulting collaborative efforts magnify the results.
Finally, the end goal is to share the data through peer reviewed publications, scientific and lay presentations, books and more. This is all intended to improve animal care whether in a collection, someone's home or in the wild.
While the focus is on the grey parrot, we have been using a number of bird species (primarily parrots) to help develop various imaging techniques.  Some healthy birds are used in non-invasive imaging. Deceased birds are used for dissection and imaging. However, no healthy parrots are being sacrificed for the project.
In the process of developing new imaging systems, we have been working on a number of educational and clinically diagnostic techniques that serve many potential applications. At this point, we have developed micro-CT and clinical CT (aka 'cat scan') protocols for small birds, a means to non-invasively view blood vessels with MRI on live birds and new contrast agents to 'cast' the vascular system of recently deceased animals. In the lab we have also used some of these advanced diagnostics on clinical bird cases to make diagnoses not previously considered possible. Ultimately, we would like to see these techniques refined and used in other facilities as a means to help solve problems in pet birds and other animals.
The research is being conducted at multiple institutions. The general and clinical research is conducted at Parrish Creek Veterinary Clinic in Centerville, Utah (Dr. Echols). General Anatomy is primarily centered at the University of Utah Department of Biology in Salt Lake City, Utah (Dr. Nielsen).  Respiratory Anatomy is headed by the team at Louisiana State University Health Sciences Center in New Orleans, Louisiana (Dr. Schachner). Craniofacial anatomy is being studied at the University of Missouri Pathology and Anatomical Sciences in Columbia, Missouri (Dr. Holliday). Appendicular skeletal, soft tissue and joint anatomy is being researched at Missouri State University Department of Biomedical Sciences in Springfield, Missouri (Dr. Tsai). Additional researchers and contributors from other universities, veterinary practices and aviaries have been providing birds and advice to help with the project.  In turn, we have been able to share our findings with numerous researchers working on often unrelated projects.
Tracy Aviary of Salt Lake City, Utah has also been involved with the Grey Parrot Anatomy Project and numerous other studies. The staff and administration of Tracy Aviary have been tremendously supportive by providing physical resources and actual cases for study and we would like to thank them for their help!